AVAR Art Gallery is nature and forest-inspired Augmented Reality art project.
AVAR (an acronym for "Audio Visual Augmented Reality" and at the same time the Estonian word for "spacious") is an augmented reality app – inspired by the forest and nature.
AVAR transforms selected public spaces (e.g. Freedom Square in Tallinn) into a hidden audio-visual art gallery that can be discovered with your own smartphone. 3D animation and contemporary music mix with real places. In this way, urban landscapes become forest scenes. The site-specific works of art can be experienced alone or in small groups. Spatial distance is therefore maintained, which is particularly important during the Covid 19 pandemic.
The invited video and sound artists / musicians come from Germany, Estonia and Finland. Inspired by the beauty and diversity of nature, they are jointly created three completely unique AR installations that invite you to pause for a moment, discover and enjoy new things, but also to question people's approach to nature.
The AVAR Art Gallery can be experienced in three locations in Tallinn and Tartu. The app required for the tour can be downloaded from the App Store and Google Play.

"Gravel forest"
Welcome to the forest! Dive into the sounds and discover nature and animals around you.
Sound: Heinbach
Graphic: Taavi Varm
Locations:
Freedom Square, Tallinn
Estonian National Museum, Tartu

"Echo circle"
Take off and have a tour across different forest landscapes. Enjoy the moment and let you inspire by the sound.
Sound: Ville MJ Hyvönen, Emmi Kujuanpää
Graphic: Taavi Varm
Locations:
Commanders Garden, Tallinn
Town Hall Square, Tartu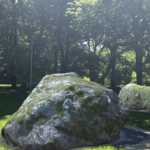 "Meditations"
For thousands of years boulders accompany the change of things. They store the wisdom and experience of time. What do they have to say about the modern human-nature relationship?
Text: Peeter Laurits
Sound: MIISUTRON
Graphic: Taavi Varm
Locations:
Hirvepark, Tallinn
Ülejõe Park, Tartu
AVAR Art Gallery is developed by Varm Studio
and supported by Goethe-Institut Estland.
LINK to official project page @ Goethe-Institut Estland